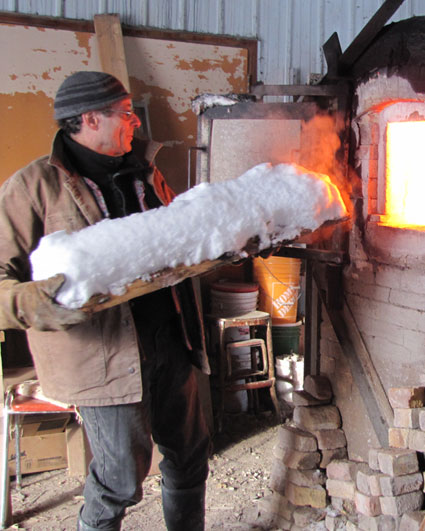 ALAN LACOVETSKY (BFA,MFA)
Introduction:
Imagine sitting in your country studio watching a lump of clay slowly and quietly growing into something of beauty.  That is how Alan spends most of his time, creating functional pots on his foot powered wheel which are then fired in an ancient style wood-burning kiln.  Now imagine that soft crackle of the fire and the beautiful smell of the burning wood. It takes about forty hours to fire the kiln with wood being stoked every five to ten minutes for that whole time.  It's hard physical work but a calming natural process that clearly shows in Alan's international award winning work.
Artist Statement:
I love the power of silence or when all I can hear are the birds singing and the wind in the trees. Living close to nature has made me think a lot about sustainability.  I prefer to use my own energy to spin the potters wheel and stoke the wood burning kiln because it allows me to be much more intimate with the process.  I want my pots to be powerful statements of beauty but calming and gentle at the same time. The wood flame produces that effect with it's natural surfaces and soft colours.  It's always an amazing experience opening a new kiln.  I've learned to trust the process!
Bio:
Alan has been making pottery for more than forty years starting on Texada Island, British Columbia where he was living off the land.  Later he studied fine arts at the University of Manitoba with Robert Archambeau and The Nova Scotia College of Art and Design with John Reeve. In 1979 he went to live in Australia for 17 years where he taught ceramics in several colleges and worked with Australia's most famous potter, Peter Rushforth (Order of Australia).
Upon returning to Canada in 1996 he established a home and studio north of Winnipeg in a beautiful setting beside Oak Hammock Marsh.  Along with Dave Krindle he built a large wood-burning kiln which is still being fired today. In 2008 he completed his Masters of Fine Arts degree at the University of North Dakota, USA.
He has taught ceramics at the University of Manitoba, Brandon University and the Winnipeg Art Gallery.  Alan is a past president of the Manitoba Craft Council and has been a board member of the Canadian Crafts Federation.
Over the past forty years Alan has developed an extensive international profile through his exhibiting, lecturing and residencies in Canada, USA, Japan, France, Hong Kong, Taiwan, Australia, Thailand,Cambodia, Korea, Malaysia, China and Croatia. He recently judged a tea ware exhibition in Kunming, south China.
To contact Alan directly via email:
alan@stonewaregallery.com
To see more about Alan visit his website at www.alanlacovetsky.com